Come Join Us
The Venetian Indoor Water Park
Are You Looking For A Waterpark In Minnesota? If you are looking for a fun, family getaway just minutes from Minneapolis, Minnesota, the Venetian …
See exactly what our Weekend Waterpark is all about by taking our tour here!
Alongside the Waterpark, we have the spacious Venetian-themed Holiday Inn & Suites. Check out which room type would accomodate you best!
Slide Down
Make A Splash
Have Fun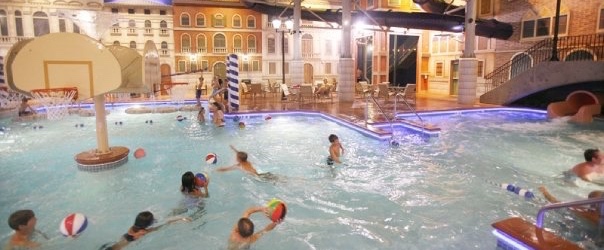 We have something for everyone, enjoy two waterslides, a floating obstacle course, basketball hoops, and a toddler area.
Learn more
Our Hotel & Waterpark are located in Arbor Lakes. Walking distance to shopping, restaurants, even a Dave & Busters!
Learn more
Our Maple Grove, MN hotel has a full restaurant and bar in addition to a concession stand in the Waterpark, endless food & drink options!
Learn More
Your Family Will Have A Splash
Sun

Mon

Tue

Wed

Thu

Fri

Sat

1

8am – Noon

https://www.venetianwaterpark.com/event/8am-12pm-53/2018-07-01/

Waterpark Features Active

2

Waterpark Closed

https://www.venetianwaterpark.com/event/waterpark-closed/2018-07-02/

Waterpark Closed. Pool area and pools open. Slides and features closed/off.

3

Waterpark Closed

https://www.venetianwaterpark.com/event/waterpark-closed/2018-07-03/

Waterpark Closed. Pool area and pools open. Slides and features closed/off.

4

Waterpark Closed

https://www.venetianwaterpark.com/event/waterpark-closed/2018-07-04/

Waterpark Closed. Pool area and pools open. Slides and features closed/off.

5

Waterpark Closed

https://www.venetianwaterpark.com/event/waterpark-closed/2018-07-05/

Waterpark Closed. Pool area and pools open. Slides and features closed/off.

6

4pm – 10pm

https://www.venetianwaterpark.com/event/4pm-10pm-53/2018-07-06/

Waterpark Features Active

7

8am – 10pm

https://www.venetianwaterpark.com/event/8am-10am/2018-07-07/

Waterpark Features Active

8

8am – Noon

https://www.venetianwaterpark.com/event/8am-12pm-53/2018-07-08/

Waterpark Features Active

9

10

11

12

13

4pm – 10pm

https://www.venetianwaterpark.com/event/4pm-10pm-53/2018-07-13/

Waterpark Features Active

14

8am – 10pm

https://www.venetianwaterpark.com/event/8am-10am/2018-07-14/

Waterpark Features Active

15

8am – Noon

https://www.venetianwaterpark.com/event/8am-12pm-53/2018-07-15/

Waterpark Features Active

16

17

18

19

20

4pm – 10pm

https://www.venetianwaterpark.com/event/4pm-10pm-53/2018-07-20/

Waterpark Features Active

21

8am – 10pm

https://www.venetianwaterpark.com/event/8am-10am/2018-07-21/

Waterpark Features Active

22

8am – Noon

https://www.venetianwaterpark.com/event/8am-12pm-53/2018-07-22/

Waterpark Features Active

23

24

25

26

27

4pm – 10pm

https://www.venetianwaterpark.com/event/4pm-10pm-53/2018-07-27/

Waterpark Features Active

28

8am – 10pm

https://www.venetianwaterpark.com/event/8am-10am/2018-07-28/

Waterpark Features Active

29

8am – Noon

https://www.venetianwaterpark.com/event/8am-12pm-53/2018-07-29/

Waterpark Features Active

30

31

August

August

August

August