Come Join Us
The Venetian Indoor Water Park
Are You Looking For A Water park In Minnesota? If you are looking for a fun, family getaway just minutes from Minneapolis, Minnesota, the Venetian …
See exactly what our Weekend Only Water park is all about by taking our tour here!
Alongside the Water park, we have the spacious Venetian-themed Holiday Inn & Suites. Check out which room type would accomodate you best!
Slide Down
Make A Splash
Have Fun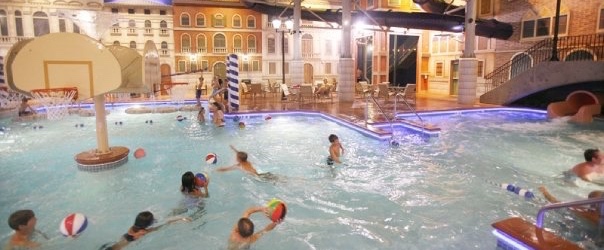 We have something for everyone, enjoy two waterslides, a floating obstacle course, basketball hoops, and a toddler area.
Learn more
Our Hotel & Waterpark are located in Arbor Lakes. Walking distance to shopping, restaurants, even a Dave & Busters!
Learn more
Our Maple Grove, MN hotel has a full restaurant and bar in addition to a concession stand in the Waterpark, endless food & drink options!
Learn More
*To keep the water park safe and fun, you must have a hotel room to use the water park. Each hotel rooms comes with 5 wristbands. Additional wristbands are not sold or available.
Your Family Will Have A Splash