Parties
Perfect for Any Social Gathering
Interested in a unique fundraising location? Planning a grooms dinneror bridal shower? Or do you want to celebrate a successful year with your company? The Holiday Inn & Suites in Maple Grove is the perfect setting for any special occasion or celebration.
Whether you prefer burgers and fries or prime rib oscar with garlic mashed, our top-line catering staff will work with you to create a menu that is exactly what you want.
Our experienced catering department can customize any event and help you create a memorable day for you and your guests:
Birthday Parties: The Venetian Indoor Water Park's Splash-tacular Party Package includes swim time, food, drinks and game tokens… perfect for your next birthday celebration! Let us take care of everything, including the mess!
Groom's Dinners – From casual to elegant dining experiences; from buffets to plated dinners, we can help you create a fun and unforgettable evening.
Gift Openings – For an easy and convenient gift opening, host your event right where your guests are staying.
Bridal & Baby Showers – Host an unforgettable shower for your friends and loved ones. Light appetizers or delectable lunches are available for all shower types.
Sports Banquets – Celebrate with your team with a waterpark adventure in the Venetian Waterpark featuring two four story waterslides!
Company Events – For a weather-proof company event for all ages, the Venetian Waterpark and Holiday Inn at Arbor Lakes creates the perfect celebration for all!
Fundraising – Ask our staff how your organization or school can raise money while having fun!
Waterpark Hours:
Friday: 4pm-10pm
Saturday: 8am-10pm
Sunday: 8am-2pm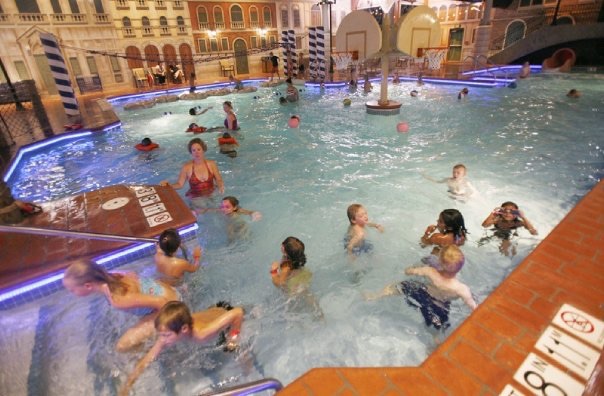 The Holiday Inn and Suites Arbor Lakes makes your day stress free. Contact Sales, at 763.425.3800 or complete the form for more information and to book your next meeting.
Waterpark Hours:
Friday: 4pm-10pm Saturday: 8am-10pm Sunday: 8am-2pm
Pool Only Hours: Waterpark Closed
Sunday: 2pm-10pm Monday-Thursday: 7am -10pm Friday: 7am-4pm